Urbana Collection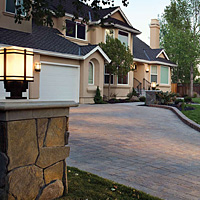 Clean cutstone with a natural appearance

The Urbana® Collection's chiseled textures and contours combine with its random shapes and patterns to recall vintage cut stone. It is offered in a versatile three-piece modular system with an optional large square that adds a broader range of shapes and an even grander scale.

Urbana's chiseled character recalls the
look of vintage cut stone.

Urbana's modular system allows for
greater design versatility.
Shapes and Styles
The Urbana® Collection offers a wide range of natural stone textures and a unique variety of beautiful color blends that combine for a realistic natural stone look. With its three-piece modular system and optional large square for a grander scale, Urbana is ideal for maximum versatility and a wide range of applications.
Modular Large Square



3 1/8x 11 7/8 x 11 7/8"
Quantity/pallet: 105 ft2
Pallet Weight: 3394 lbs


Three Piece



Sm. Rtg. 3 1/8 x 7 7/8 x 3 7/8"
Sq. 3 1/8 x 7 7/8 x 7 7/8"
Lg. Rtg. 3 1/8 x 7 7/8 x 11 7/8"
Quantity/pallet: 105 ft2
Pallet Weight: 3595 lbs


Toscana Blend


Bella Blend


Rio Blend