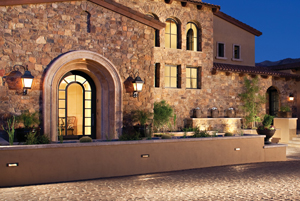 Outdoor lighting is an essential feature to providing overall ambiance to the exterior of your home or business by showcasing your landscape setting with decorative lights as well as providing safety and security protection through lighted pathways, timed lighting and automated flood lights.
Types of Outdoor Lighting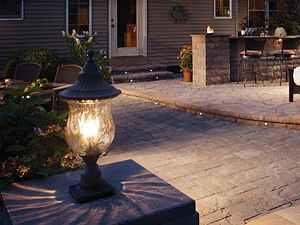 Gracing your landscape with touches of drama after the sun goes down and highlighting your gardens, water features, statuary and swimming pools may be accomplished by adding one or several of the following to your overall landscape design. Adding lights to decks walkways, walls and gardens is one of the many ways to add charm and elegance as well as provide enhanced security to your property.
Today, outdoor lighting comes in an array of possibilities from which to choose, from to traditional to vintage, classic to contemporary. Let the experts at StreamLine Landscape show you how to highlight your exterior landscape and create the look that is perfect for you using decorative lighting from a vast selection of colors and styles.
Professional Design and Installation
The proper planning and placement of your exterior lighting is essential in providing the overall ambiance and security protection you need. You can trust the experienced staff at StreamLine to oversee the installation of a lighting plan and to provide the expertise to guide you through the selection process.
Following an initial consultation to determine your outdoor lighting needs and working within your budget, StreamLine's team of professional designers will custom design a exterior lighting plan tailored to suit your needs that offer the aesthetic qualities you desire and the optimum safety and security elements you need.