Mega-Arbel Collection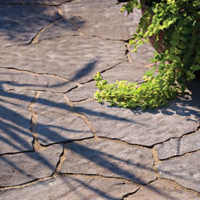 A natural look on a grander scale

Mega-Arbel® pavers allow homeowners to create the perfectly integrated, natural-looking hardscapes they desire. Featuring a range of attractive natural hues to choose from, Mega-Arbel's scale is similar to natural flagstone-roughly two-thirds larger than Arbel, its smaller counterpart. Plus, installation is easy - the amount of cutting required is reduced to a minimum due to Mega-Arbel's ingenious interlocking feature.

Mega-Arbel's bigger, bolder scale
is similar to natural flagstone.

Mega-Arbel's irregular interlocking
system creates a more natural footprint.
Shapes and Styles
Look through Belgard's extensive portfolio of shapes, textures, and colors and you're certain to find the perfect paver or wall unit for almost every architectural style.
Mega-Arbel Stone



3 1/8 x 15 3/8 x 20 15/16"
Quantity/pallet: 78 ft2
Pallet Weight: 2800 lbs


Toscana Blend


Bella Blend


Rio Blend